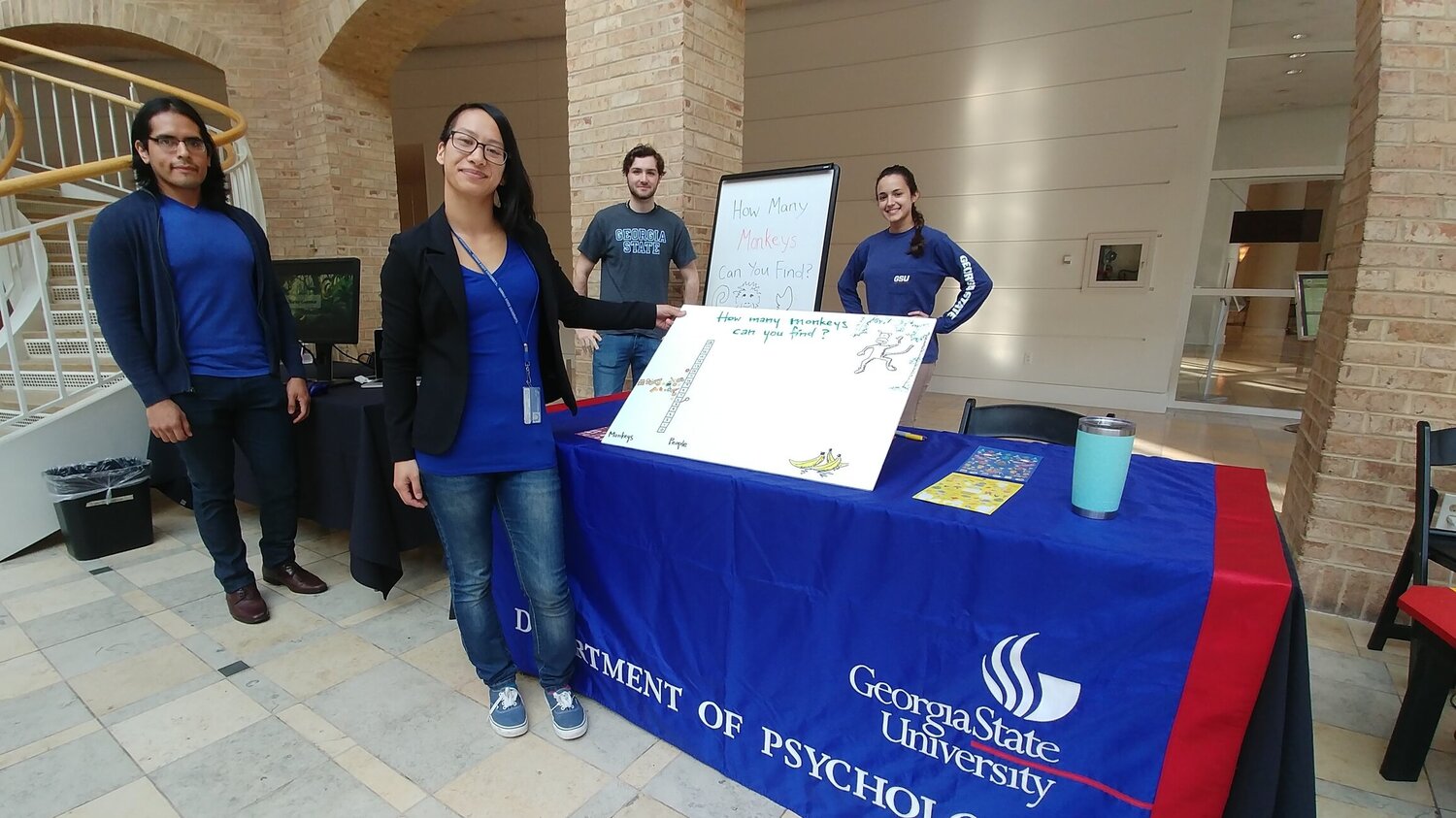 Students Jhonatan Saldaña, Julia Watzek, Caleb Truscott, and Olivia Tomeo Reilly at the 2017 Fernbank Museum of Natural History's Adventures in Science day, in which families got to participate in our tasks and compare their performance to our non-human primate subjects.
Science is a publicly funded enterprise, therefore it is vital that science is available to all. Part of our lab mission is to provide that information where we can. All of the members of my lab participate in outreach activities aimed at bringing an improved understanding of science and the scientific method to the general public, particularly K-12 students. Some of these activities include participating each year in Fernbank Museum of Natural History's Adventures in Science Day, the Atlanta Science Festival, Brain Awareness Month, giving talks to the general public (lectures at museums or the Atlanta Science Tavern), judging at local science fairs, engaging with K-12 students through talks and participation in programs like Letters to a pre-scientist, and participating in programs to enhance communication with the public, such as ComSciCon Atlanta and the Flame Challenge.
See below for some highlights and photos of our lab's recent outreach activities!
Dr. Marcela Benítez
Marcela has been active in outreach since she was a graduate student, completing the University of Michigan's Science Communication Fellowship, participating in the Flame Challenge (see her video, left!), engaging in extensive outreach in Costa Rica at the field site she co-Directs, Capuchins de Taboga, and being active in 500 Women Scientists, among many others. For more details on Marcela's outreach, see her website.
Photos of our lab's outreach activities